$22.99
AUD
Category: Philosophy
What aspects of your life do you really control? What do you do when you cannot guarantee that things will turn out in your favour? And what can Stoicism teach us about how to live together? In the past few years, Stoicism has been making a comeback. But what exactly did the Stoics believe? In Lessons in Stoicism, philosopher John Sellars weaves together the key ideas of the three great Roman Stoics - Seneca, Epictetus and Marcus Aurelius - with snapshots of their fascinating lives, to show us how their ideas can help us today. In vivid prose, Sellars shows how the works of these three Stoics have inspired readers ever since, speaking as they do to some of the perennial issues that face anyone trying to navigate their way through life. Their works, fundamentally, are about how to live - how to understand one's place in the world, how to cope when things don't go well, how to manage one's emotions and how to behave towards others. Consoling and inspiring, Lessons in Stoicism is a deeply thoughtful guide to the philosophy of a valuable life. ...Show more
$34.99
AUD
Category: Philosophy
From the bestselling authors of The Daily Stoic comes an inspiring guide to the lives of Stoicism's greatest practitioners. For millennia, Stoicism has been the ancient philosophy that attracts those who seek greatness, from athletes to politicians and everyone in between. And no wonder: its embrace of self-mastery, virtue and indifference to that which we cannot control has much to offer those grappling with today's chaotic world. But who were the Stoics?In this book, Ryan Holiday and Steohen Hanselman offer a fresh approach to understanding Stoicism through the lives of the people who practiced it. Through short biographies of all the famous, and lesser-known, Stoics, this book will show what it means to live stoically, and reveal the lessons to be learned from their struggles and successes. The result is a treasure trove of insights for anyone in search of living a good life. ...Show more
The Republic
by Plató; Desmond Lee (Translator); Melissa Lane (Introduction by)
$14.99
AUD
Category: Philosophy
 Plato's Republic is widely acknowledged as the cornerstone of Western philosophy. Presented in the form of a dialogue between Socrates and three different interlocutors, it is an enquiry into the notion of a perfect community and the ideal individual within it. During the conversation other questions a re raised- what is goodness; what is reality; what is knowledge? The Republic also addresses the purpose of education and the role of both women and men as 'guardians' of the people. With remarkable lucidity and deft use of allegory, Plato arrives at a depiction of a state bound by harmony and ruled by 'philosopher kings'. ...Show more
$35.00
AUD
Category: Philosophy
What do we know, and how do we know it? What do we now know that we don't know? And what have we learnt about the obstacles to knowing more? In a time of deepening battles over what knowledge and truth mean, these questions matter more than ever. Bestselling polymath and philosopher A. C. Grayling seeks to answer them in three crucial areas at the frontiers of knowledge- science, history, and psychology. In each area he illustrates how each field has advanced to where it is now, from the rise of technology to quantum theory, from the dawn of humanity to debates around national histories, from ancient ideas of the brain to modern theories of the mind.A remarkable history of science, life on earth, and the human mind itself, this is a compelling and fascinating tour de force, written with Grayling's verve, clarity and remarkable breadth of knowledge. ...Show more
$19.99
AUD
Category: Philosophy | Series: Penguin Classics Ser.
The social revolution for women's rights has made great progress in recent years. But how many casual observers - or advocates, for that matter - are aware that the roots of this movement extend deep into Western history?   Even before launching the great campaign to attain universal suffrage, strong female voices spoke in favor of the social, political, educational, and economic rights of women. A Vindication of the Rights of Women, published in the late eighteenth century, is truly a classic in this venerable tradition. Railing against the stubborn social forces that confined women to an inferior station in the community, Mary Wollstonecraft declares war on the prevailing attitudes and customs that prevent women from realizing their individual potential. ...Show more
$19.99
AUD
Category: Philosophy | Series: Picador Classic Ser.
With an introduction by comedian and novelist David Baddiel A novel in seven volumes, Marcel Proust's In Search of Lost Time is considered a major literary work of the twentieth century. And even more crucially, one that you should have read by now. However, as one of its most distinguishing features i s its staggering length, many of us feel intimidated and perhaps, even, fatigued at the thought of diving in. Alain de Botton's hilarious and unexpected Proustian manual, is then, the perfect antidote to this problem. In How Proust Can Change Your Life, de Botton masterfully distils what Proust says about friendship, reading, being alive and taking your time, and mixes it with his own, no less nourishing commentary. As de Botton rereads Proust for our collective benefit, we see the continued relevance of his work and the rich and varied insights he can offer us, from how to reinvigorate your relationship to being a good host. This is Proust as you've never seen him before. He may even change your life. ...Show more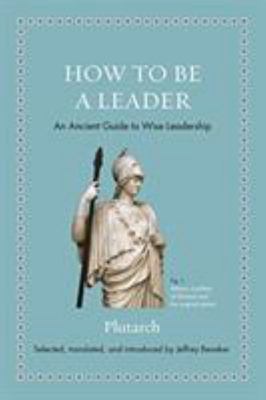 $29.99
AUD
Category: Philosophy | Series: Ancient Wisdom for Modern Readers Ser.
Timeless advice on how to be a successful leader in any field The ancient biographer and essayist Plutarch thought deeply about the leadership qualities of the eminent Greeks and Romans he profiled in his famous--and massive--Lives, including politicians and generals such as Pericles, Alexander the Gre at, Julius Caesar, and Mark Antony. Luckily for us, Plutarch distilled what he learned about wise leadership in a handful of essays, which are filled with essential lessons for experienced and aspiring leaders in any field today. In How to Be a Leader, Jeffrey Beneker presents the most important of these essays in lively new translations accompanied by an enlightening introduction, informative notes, and the original Greek on facing pages. In "To an Uneducated Leader," "How to Be a Good Leader," and "Should an Old Man Engage in Politics?" Plutarch explains the characteristics of successful leaders, from being guided by reason and exercising self-control to being free from envy and the love of power, illustrating his points with memorable examples drawn from legendary Greco-Roman lives. He also explains how to train for leadership, persuade and deal with colleagues, manage one's career, and much more. Writing at the height of the Roman Empire, Plutarch suggested that people should pursue positions of leadership only if they are motivated by "judgment and reason"--not "rashly inspired by the vain pursuit of glory, a sense of rivalry, or a lack of other meaningful activities." His wise counsel remains as relevant as ever. ...Show more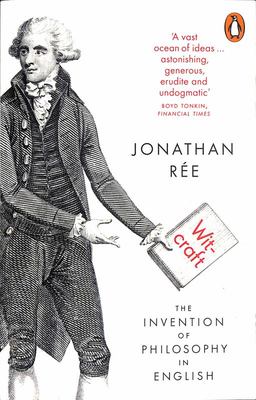 $26.99
AUD
Category: Philosophy
In Witcraft Jonathan Rée offers compelling intellectual portraits of celebrated British and American philosophers such as Locke, Hume, Emerson, Mill and James. But he also does much more. He draws attention to the philosophical work of literary authors like William Hazlitt and George Eliot, and dozens o f others now largely forgotten, while paying tribute to the hundreds of ordinary men and women who engaged with philosophy while getting on with the rest of their lives. Philosophers in Britain and America have often been regarded as narrow-minded and pedestrian compared to their counterparts in continental Europe: this lively and eventful book reveals them instead as colourful, diverse, inventive and cosmopolitan. Philosophy, in Jonathan Rée's interpretation, turns out to be not the work of a few canonical old men, but of masses of ordinary people who have insisted on thinking for themselves, and reaching their own conclusions about religion, politics, art and everything else. 'We English men have wits', as Ralph Lever wrote in the sixteenth century. The history of philosophy will never look the same again. ...Show more
$19.99
AUD
Category: Philosophy
Understanding philosophy has never been easier. Combining bold, elegant graphics with easy-to-understand text, Simply Philosophy is the perfect introduction to the subject for those who are short of time but hungry for knowledge. Artfully simple, it covers more than 90 key philosophical ideas, organiz ed by major philosophical themes - metaphysics and epistemology, analytic and continental philosophy, the philosophy of mind, ethics, political philosophy, and logic. Each pared-back entry explains a core philosophical concept more clearly than ever before, demystifying the groundbreaking theories of famous thinkers - from Plato's ideal forms to Kant's categorical imperative and Nietzsche's Übermensch to Wittgenstein's private language argument. The essential ideas of the major philosophical schools and traditions, such as empiricism, rationalism, materialism, and dualism, can be grasped in seconds. Whether you are studying philosophy at school or college, or simply want a jargon-free overview of the subject, this indispensable guide is packed with everything you need to understand the basics quickly and easily. ...Show more
$12.99
AUD
Category: Philosophy | Series: Popular Penguins Ser.
Paul Davies' The Mind of God is a scientific search for the meaning of the universe. Ranging across the cosmos, Davies explores the origin of the universe, the laws of nature, mathematics, the beginning and end of everything. Ultimately, he seeks to provide a glimpse the meaning of it all. This is a boo k no inquisitive mind can do without. ...Show more
$32.99
AUD
Category: Philosophy
'In this thought-provoking book, Massimo Pigliucci shares his journey of discovering the power of Stoic practices in a philosophical dialogue with one of Stoicism's greatest teachers.' RYAN HOLIDAY, BESTSELLING AUTHOR OF THE OBSTACLE IS THE WAY AND THE DAILY STOIC Who am I? What am I doing? How ought I to live my life? Stoicism teaches us to acknowledge our emotions, reflect on what causes them and redirect them for our own good. Whenever we worry about how to be happy, we are worrying about how to lead a good life. No goal seems more elusive. Massimo Pigliucci explores this remarkable philosophy and how its wisdom can be applied to our everyday lives in the quest for meaning. He shows how stoicism teaches us the importance of a person's character, integrity and compassion. Whoever we are, we can take something away from stoicism and, in How to be a Stoic, with its practical tips and exercises, meditations and mindfulness, he also explains how relevant it is to every part of our modern lives. ...Show more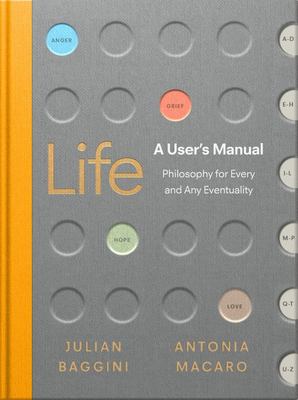 $35.00
AUD
Category: Philosophy
How should I live? What is my purpose? Can I find happiness? Ever felt as though life would be simpler if it came with an instruction manual? There are no easy answers to the big questions. And life does not follow a straight path from A to B. Since the beginning of time, people have asked questions a bout how they should live and, from Ancient Greece to Japan, philosophers have attempted to solve these questions for us. The timeless wisdom that they offer can help us to find our own path. In this insightful, engaging book, renowned existential psychotherapist and philosophical counsellor Antonia Macaro and bestselling philosopher Julian Baggini cover topics such as bereavement, luck, free will and relationships, and guide us through what the greatest thinkers to ever walk the earth have to say on these subjects, from the Stoics to Sartre. Discover advice from the world's greatest thinkers on questions like- Is there a right way to grieve? What is free will? How can we learn from past mistakes? Do we make our own luck? ...Show more