$24.99
AUD
Category: Childrens Picture Books
With a strong message of hope, interconnectedness, and empowerment, This Small Blue Dot features a little girl explaining the world to her baby sister. She hits on small wonders, big lessons, and everything in between, from sharing the joy of silly dances to contemplating the nature of this "small blue dot" we all live on. Author and illustrator Zeno Sworder, who hails from a multicultural background, wrote this story when his daughter was unable to find picture books with characters who looked like her. His precocious young narrator has opinions on plenty of things: nature and the environment, embracing difference, the power of imagination--and the trouble with broccoli. Rich pencil and crayon illustrations conjure up memories of childhood in this celebration of who we are, where we come from, and where our dreams may take us. In This Small Blue Dot, Sworder captures not only life lessons but also the fun, often strange experience of being a member of the human family on planet Earth.   ...Show more
$15.99
AUD
Category: Junior Fiction | Series: Wolf Girl
A wildly exciting adventure series from bestselling author Anh Do. Wolf Girl and her trusty dogs are back for another hackle-raising adventure. On the run from sinister forces, Gwen rushes head-long into danger. With giant snakes, komodo dragons and a whole new wolf pack to contend with, Wolf Girl will need all her cunning... and all her friends.   ...Show more
$17.99
AUD
Category: Childrens Early Readers | Series: Dog Man
A brand-new graphic novel series by Dav Pilkey, the internationally bestselling author and illustrator of the DOG MAN and CAPTAIN UNDERPANTS series. Welcome to the Cat Kid Comic Club, where Li'l Petey (LP), Flippy, and Molly introduce twenty-one rambunctious, funny, and talented baby frogs to the art of comic making. As the story unwinds with mishaps and hilarity, readers get to see the progress, mistakes, and improvements that come with practice and persistence. Squid Kid and Katydid, Baby Frog Squad, Gorilla Cheese Sandwich, and Birds Flowers Tree: A Haiku Photo Comic are just some of the mini-comics that are included as stories-within-the-story, each done in a different style, utilizing humour and drama, prose and poetry, illustrated in different media including acrylics, pastels, coloured pencils, felt-tip markers, clay, hand-made cardboard sculptures, photographs, pipe cleaners, construction paper collages, and cookies. Readers of all ages will be inspired to dream up their own stories and unleash their own creativity as they dive into this pioneering graphic novel adventure from Dav Pilkey and his heartfelt, humorous, and amazing cast of characters in the Cat Kid Comic Club. ...Show more
$14.99
AUD
Category: Junior Fiction
In The Deep End, book 15 of the Diary of a Wimpy Kid series from #1 international bestselling author Jeff Kinney, Greg Heffley and his family hit the road for a cross-country camping trip, ready for the adventure of a lifetime. But things take an unexpected turn, and they find themselves stranded at an RV park that's not exactly a summertime paradise. When the skies open up and the water starts to rise, the Heffleys wonder if they can save their vacation-or if they're already in too deep. And don't miss Rowley Jefferson's Awesome Friendly Adventure, an all-new fantasy from Greg's best friend-the follow-up to the instant #1 bestseller Diary of an Awesome Friendly Kid- Rowley Jefferson's Journal.   ...Show more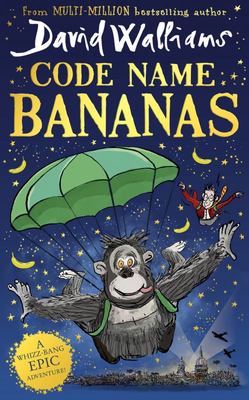 $22.99
AUD
Category: Junior Fiction
1940. Britain is at war with Nazi Germany. Eleven-year-old Eric spends his days at the place that makes him most happy: London Zoo. And there's one animal in particular he loves: Gertrude the gorilla. With bombs falling all over London, Eric must rescue Gertrude. Together with his Uncle Sid, a keeper at the zoo, the three go on the run. But while hiding out at the seaside they uncover a top-secret Nazi plot… Join David Walliams on this action-packed, laugh-out-loud adventure for all the family! ...Show more
$19.99
AUD
Category: Childrens Picture Books
Tides will rise and moons will fall,I'll be beside you through it all.  Filled with love, hope and possibility, here is the perfect gift for new babies everywhere. A delightful story to share and treasure from one of Australia's brightest picture-book stars.  
$14.99
AUD
Category: Childrens Picture Books
Bluey and Bingo head to the pool with Dad. What could go wrong? A gorgeous board book for kids of all ages. Bluey has been a phenomenal success since airing on ABC KIDS in October 2018, amassing legions of dedicated fans and hugely popular ranges of books, toys, clothes, games and more. It holds the cov eted position of being the most watched program ever on ABC iView, with over 260 million plays for Series One, and is the winner of an International Emmy for Most Outstanding Children's Programme.   ...Show more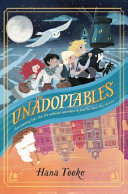 $16.99
AUD
Category: Junior Fiction
'Milou,' Lotta said softly. 'We need adoption papers to leave. And no one except that horrid merchant wants us.''Well then,' replied Milou with a grin. 'We'll just have to adopt ourselves.'In all the years that Elinora Gassbeek has been matron of the Little Tulip Orphanage, not once have the Rules for B aby Abandonment been broken. Until the autumn of 1886, when five babies are left in outrageous circumstances- one in a tin toolbox, one in a coal bucket, one in a picnic hamper, one in a wheat sack, and finally, one in a coffin-shaped basket. Those babies were Lotta, Egg, Fenna, Sem and Milou; who were swiftly and firmly deemed 'the unadoptables'. Twelve years on the children still have each other - until the fateful night a most sinister gentleman appears and threatens to tear them apart. The gang decide to make a daring escape, fleeing the frozen canals of Amsterdam for an adventure packed with puppets and pirate ships, clock-makers and cruel villains - and with only a scrap of a clue to guide them to their mysterious new home . . . ...Show more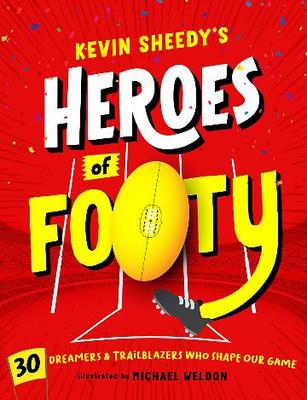 $29.99
AUD
Category: Childrens Education
  Introducing 30 of the rule-breaking, change-making, boundary-pushing and risk-taking men and women who have shaped footy. Celebrate the players hand-picked by the legendary Kevin Sheedy as some of the greatest trailblazers the game has ever seen. Featuring stats, biographical information and brillia nt illustrations by Michael Weldon, Heroes of Footy is the perfect gift for young footy tragics everywhere.  ...Show more
$24.99
AUD
Category: Childrens Picture Books
Splash into summer with this glorious love letter to the seasons. Combining Jane Godwin's sparkling text and Alison Lester's whimsical watercolours, Sing Me the Summer celebrates those precious everyday moments that stay with us forever.
Items per page:
1 - 10 of 10