Drama
by Raina Telgemeier
$16.99
AUD
Category: Graphic Novels
From Raina Telgemeier, the #1 New York Times bestselling, multiple Eisner Award-winning author of Smile and Sisters Callie loves theater. And while she would totally try out for her middle school's production of Moon over Mississippi, she can't really sing. Instead she's the set designer for the drama department's stage crew, and this year she's determined to create a set worthy of Broadway on a middle-school budget. But how can she, when she doesn't know much about carpentry, ticket sales are down, and the crew members are having trouble working together? Not to mention the onstage AND offstage drama that occurs once the actors are chosen. And when two cute brothers enter the picture, things get even crazier ...Show more
$19.99
AUD
Category: Graphic Novels | Series: Lightfall
For fans of Amulet and middle grade readers who love sweeping worlds like Star Wars, the first book of the Lightfall series introduces Bea and Cad, two unlikely friends who get swept up in an epic quest to save their world from falling into eternal darkness. Deep in the heart of the planet Irpa stands the Salty Pig's House of Tonics & Tinctures, home of the wise Pig Wizard and his adopted granddaughter, Bea. As keepers of the Endless Flame, they live a quiet and peaceful life, crafting medicines and potions for the people of their once-prosperous world. All that changes one day when, while walking through the woods, Bea meets Cad, a member of the Galdurians, an ancient race thought to be long-extinct. Cad believes that if anyone can help him find his missing people, it's the Pig Wizard.But when the two arrive home, the Pig Wizard is nowhere to be found-all that's left is the Jar of Endless Flame and a mysterious note. Fearing for the Pig Wizard's safety, Bea and Cad set out across Irpa to find him, while danger fights its way out of the shadows and into the light. Will these two unexpected friends find the beloved Pig Wizard and prevent eternal darkness from blanketing their world Or has Irpa truly seen its last sunrise   ...Show more
$22.99
AUD
Category: Graphic Novels | Series: Naruto
The world's most popular ninja comic just got bigger with this collection of Naruto volumes! Reads R to L (Japanese Style), for audiences T Containing volumes 1, 2 and 3 of Naruto! Twelve years ago the Village Hidden in the Leaves was attacked by a fearsome threat. A nine-tailed fox spirit claimed the l ife of the village leader, the Hokage, and many others. Today, the village is at peace and a troublemaking kid named Naruto is struggling to graduate from Ninja Academy. His goal may be to become the next Hokage, but his true destiny will be much more complicated. The adventure begins now! ...Show more
$15.99
AUD
Category: Graphic Novels
There's a new kid at Shipwreck Primary! But there's also something fishy about her. Can Finn the Shark and his buddies work out who she is, and could she possibly be the answer to their problems with Blake the bully? With Great White Shark teachers, treacherous undersea races and dangerous fishermen nea rby, it's never a dull moment in this School of Fish! An hilarious new underwater graphic novel. It will have you hooked!   ...Show more
$14.99
AUD
Category: Graphic Novels | Series: The Odds
They're invaders from another world. Your imagination. Kip is a quiet kid in a loud city. She's easy to miss and that's the way she likes it.Then, one day, Kip's quiet life is suddenly interrupted. Ten of her favourite characters have stepped out of their worlds and into hers.But what happens when a dra gon-hunting rabbit leaves his comic strip? When an old man leaves his picture book? When a ninja leaves her TV show, a race-car driver leaves their video game, and a dinosaur turns up from Kip's nightmares? From million-copy bestseller Matt Stanton comes the start of a hilarious and heart-filled graphic novel series about identity, imagination and discovering who you are.Meet The Odds ... because fitting in is overrated. ...Show more
$14.99
AUD
Category: Graphic Novels | Series: The Baby-Sitters Club Graphic
Dawn Schafer is the newest member of The Baby-Sitters Club. While she's still adjusting to life in Stoneybrook after moving from sunny California, she's eager to accept her first big job. But taking care of the three Barrett kids would be too much for "any" baby-sitter.
Ghosts
by Raina Telgemeier
$16.99
AUD
Category: Graphic Novels
Catrina and her family are moving to the coast of Northern California because her little sister, Maya, is sick. Cat isn't happy about leaving her friends for Bahia de la Luna, but Maya has cystic fibrosis and will benefit from the cool, salty air that blows in from the sea. As the girls explore their ne w home, a neighbor lets them in on a secret: There are ghosts in Bah a de la Luna. Maya is determined to meet one, but Cat wants nothing to do with them. As the time of year when ghosts reunite with their loved ones approaches, Cat must figure out how to put aside her fears for her sister's sake -- and her own.Raina Telgemeier has masterfully created a moving and insightful story about the power of family and friendship, and how it gives us the courage to do what we never thought possible. ...Show more
$14.99
AUD
Category: Graphic Novels | Series: The Baby-Sitters Club Graphic
A brand-new graphic novel adapted by USA Today bestselling author Gale Galligan Stacey and Mary Anne are baby-sitting for the Pike family for two weeks at the New Jersey shore. Things are great in Sea City: There's a gorgeous house right on the beach, a boardwalk, plenty of sun and sand... and the cutes t boy Stacey has ever seen. Mary Anne thinks that Stacey should leave Scott alone and focus on the Pike kids, but Stacey's in love. Looking for reasons to hang around his lifeguard stand takes up all of her time, which means Mary Anne has to do the job of two baby-sitters. Mary Anne doesn't like it one bit How can she tell Stacey that Scott just isn't interested without ruining their friendship and breaking Stacey's heart? ...Show more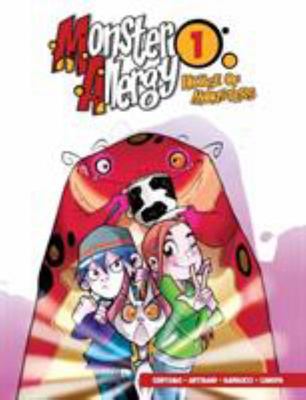 $16.99
AUD
Category: Graphic Novels | Series: Monster Allergy Ser.
Most kids are only allergic to things like pollen or peanuts, but not Zick--he's also allergic to monsters! Join Zick and his friend Elena as they explore the world of monsters in this thrilling first installment of the Monster Allergy adventure! Elena Potato just moved to Oldmill Village, but she's ab out to find out that there's a lot more going on in this quiet little town than meets the eye--Oldmill Village is actually an oasis for all kinds of monsters! Zick, Elena's new neighbor, is a strange kid who's allergic to just about everything, but he alone has the power to see the invisible ghosts and monsters that live among us.  Together, Zick and Elena are out to investigate all the strange phenomena going on in Oldmill Village, including a recent uptick in missing pets, a dangerous man-eating plant, and a sinister salesman who could pose the ultimate threat to both humans and monsters alike! ...Show more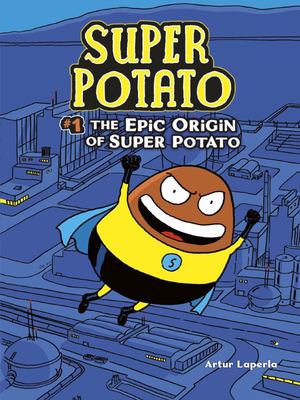 $14.99
AUD
Category: Graphic Novels | Series: Super Potato
Super Max has it all. He's a superhero with a flashy uniform and a great head of hair. Sure, sometimes the evil Dr. Malevolent pops up to cause trouble. But Super Max has defeated the villain over and over again. This time is different. This time, Dr. Malevolent's plan works . . . and he turns the hands ome hero into a tiny tuber But there's one thing the doctor didn't count on. The potato still has powers, and justice takes many forms. Super Max may be gone . . . but it's Super Potato's time to fly. Perfect for reluctant readers None of the blood and gore common to current titles from Marvel/DC Colourful artwork that reflects the book's sense of humor ...Show more
$14.99
AUD
Category: Graphic Novels | Series: The Baby-Sitters Club Graphic
Stacey, a member of the Baby-sitters Club, struggles with her parents, who refuse to accept that she has diabetes, baby-sitting problems, and a rival baby-sitting club.
$14.99
AUD
Category: Graphic Novels | Series: The Baby-Sitters Club Graphic
Kristy, Mary Anne, Claudia, and Stacey are best friends and founding members of The Baby-sitters Club. Whatever comes up -- cranky toddlers, huge dogs, scary neighbors, prank calls -- you can count on them to save the day. Baby-sitting isn't always easy, and neither is dealing with strict parents, new f amilies, fashion emergencies, and mysterious secrets. But no matter what, the BSC have what they need most: friendship.Raina Telgemeier, using the signature style featured in her acclaimed graphic novels Smile and Sisters, perfectly captures all the drama and humor of the original novel ...Show more